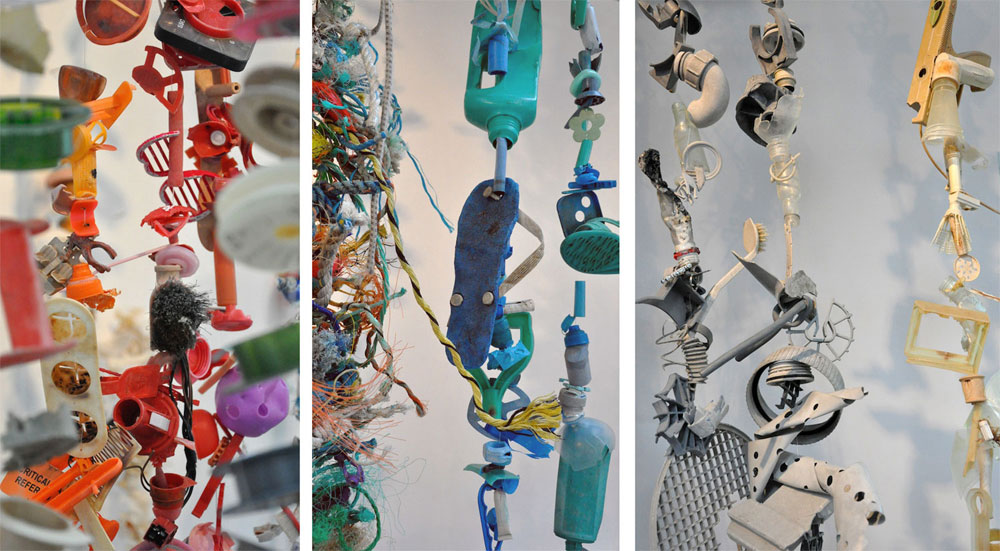 July 2011
Lines of Exchange

a tide of plastic invades Snape Maltings...
Shocked by a UN Environment Programme report in 2006 that estimated that on average there are 46,000 pieces of plastic litter per square mile of ocean worldwide, Suffolk artist Fran Crowe embarked on a personal challenge to pick up 46,000 pieces of litter whilst walking on beaches near her Suffolk home. 'My aim', says Fran, 'was not just to help clear local beaches but, much more importantly, to raise awareness of the harm plastics do to wildlife'. The UN estimate that over one million seabirds and over 100,000 marine mamals and turtles die every year due to entanglement with or swallowing litter.
Now Fran is creating an eye-catching new installation of plastics she has collected whilst walking on Suffolk beaches. Throughout August, the Dovecote Studio at Snape Maltings will be filled with a visually stunning but highly disturbing hanging sculpture consisting of many of the objects she has collected.
'I am a natural collector', says Fran, 'but I so wish I couldn't find so much to collect on our beaches. It's a really sad legacy to our children and future generations that we are polluting the oceans and shoreline with all these plastics. What's more, it's doing terrible harm to wildlife too.'
Scientists estimate that there are millions of tonnes of plastic in our oceans and it is increasing at a terrifying rate - more than doubling every three years. By now there could be over 200,000 pieces of plastic debris in every square mile of sea - that is, nearly 10 million pieces floating just off the Suffolk coast!
Worse still, scientists believe it may take up to a thousand years for it to break down in seawater. Even then it remains as millions of microscopic particles that eventually find their way into our food chain. According to Greenpeace, a single one litre drinks bottle could break down into enough small fragments to put one on every mile of beach in the entire world. In effect, nearly all the plastic we have ever produced still exists in some form somewhere on our planet.
'If only we could all try to avoid buying plastics for disposable items, it would make a massive difference. I know what I'm doing is just a splash in the ocean but I really hope lots of people will come and realise that they too can do something to help improve the state of our oceans before it's too late.'
Lines of Exchange is a site specific hanging installation specially created by Fran for Aldeburgh Music and the Snape Proms and can be seen in the Dovecote Studio at Snape Maltings from 1st to 31st August, 2011 - open every day from 2pm until the evening prom concert (usually 7 / 7.30 pm). Admission is free.
Harry Young, General Manager of Aldeburgh Music, says "We are delighted to have Fran Crowe's installation on show for the Snape Proms, having long admired her work and the cause. The Dovecote Studio, with its view over the Alde, feels a wholly appropriate space for the piece."
You can come and meet Fran at the studio to ask her about her work or to show her something interesting that you have found on the beach on Monday 8th August from 5pm and on Monday 15th August from 2 - 5pm.
Much more about Fran's collection and her other work can be found on her website www.flyintheface.com.
Contact details
Fran Crowe: fran@flyintheface.com
Aldeburgh Music http://www.aldeburgh.co.uk
For further information regarding beach litter, see www.mcsuk.org or oceans.greenpeace.org
For more images of Fran's work, see her website www.flyintheface.com
Photos attached:
Lines of exchange - preview (detail)
Line found while walking (detail)
Exhibition card
(NB. Higher resolution images available from Fran on request)
Notes
The 46,000 figure is quoted from a United Nations Environment Programme Report "Ecosystems and Biodiversity in Deep Waters and High Seas". See http://www.unep.org/regionalseas/Publications/Reports/Series_Reports/Reports_and_Studies/default.asp