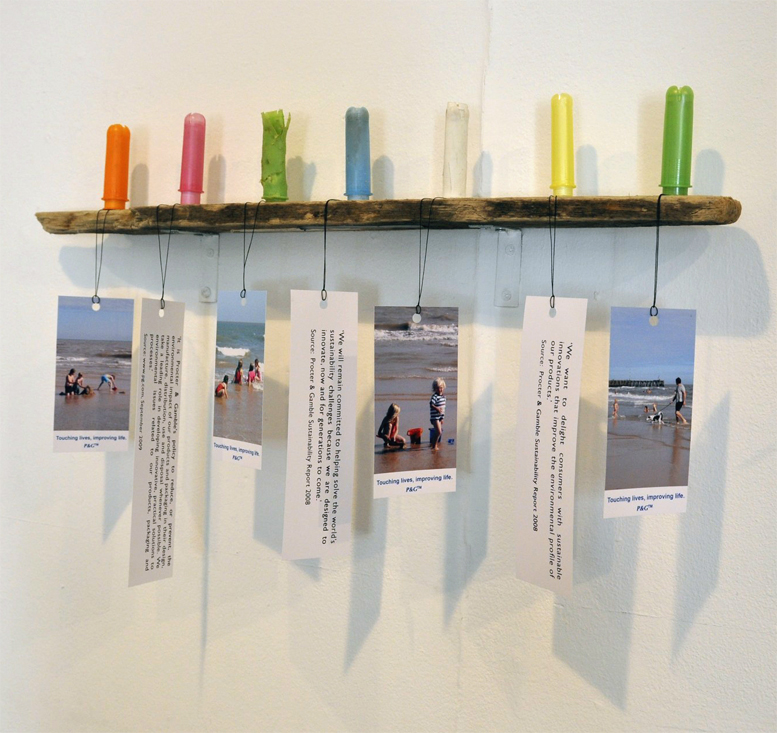 Installation at Found Out: tampon applicators found while walking on Suffolk beaches, card, string, driftwood shelf, photographs

Procter and Gamble, brand-owner of Tampax, are one of the world's largest consumer goods companies and are also the top-spending advertiser in the world (including in the UK), spending in excess of 8 billion US dollars in 2008. Their heavily promoted launch of premium priced plastic applicator tampons has enabled them to expand their profits and grow their share globally.
Often flushed through the sewage system (especially after heavy rainfall), plastic tampon applicators can now be found on beaches throughout the world and will endure in the marine environment for hundreds of years.
Increasingly dismayed by the amount of plastic tampon applicators washing up on the beach where I live, I decided to investigate for myself the reasons why Procter & Gamble should want to convert people from non-applicator or biodegradable cardboard applicator tampons to plastic applicator tampons that will last for hundreds of years when flushed out to sea.
Here's what they say:

'We have a vision that one day zero consumer waste will go to landfill'
' [P&G] make meaningful differences in people's lives across the world'
Source: Procter & Gamble Citizen Report 2017

'We want to delight consumers with sustainable innovations that improve the environmental profile of our products.'
Source: Procter & Gamble Sustainability Report 2008

'We use life-cycle thinking, a discipline we helped pioneer, to determine a product's entire environmental footprint, from the procurement of raw materials to the product's use by consumers and ultimate disposal.'
Source: pg.com January 2010

'It is Procter & Gamble's policy to reduce, or prevent, the environmental impact of our products and packaging in their design, manufacture, distribution, use and disposal whenever possible. We take a leading role in developing innovative, practical solutions to environmental issues related to our products, packaging and processes.'
Source: www.pg.com, September 2009

'We will remain committed to helping solve the world's sustainability challenges because we are designed to innovate, now and for generations to come.'
Source: Procter & Gamble Sustainability Report 2008

'Feminine Care is extending its brands to reach millions of new consumers in developing markets and new segments, such as plastic applicator tampons. Each additional global share point earned in Feminine Care is worth $100million of P&G sales'.
Proctor & Gamble annual report 2003

'Touching lives, improving life'.
P&G Tampax brand strap-line at the time of this project.

Hmmm...yes, touching lives (when we swim in the sea,build sandcastles in the sand and picnic on the beach...) but improving life....?
Why not email and tell Procter & Gamble what you think of their plastic tampon applicators.... or alternatively ring their
Consumer Relations Team on tel : 0800 085 0367 (UK). Or call their Tampax press office on 01932 896090.
Also see SHORT WALK ON THE BEACH...