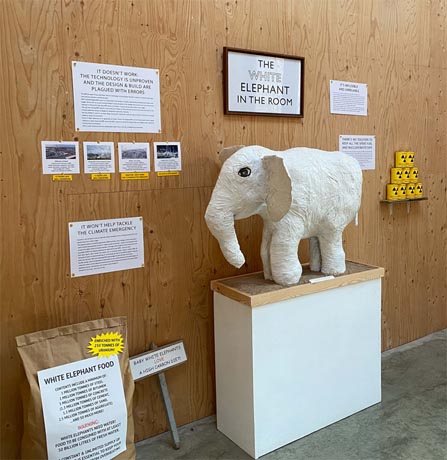 IN FACT FOUR ELEPHANTS IN THE ROOM...
1. IT DOESN'T WORK: THE TECHNOLOGY IS UNPROVEN AND THE DESIGN & BUILD ARE PLAGUED WITH ERRORS
The EPR (European Pressurised Water Reactor) technology of the proposed Sizewell C reactors is unproven and fraught with technical problems and build blunders.
EDF's intended flagship EPR reactor is at Flamanville in Normandy. It is already a decade behind schedule and £ billions over budget. And it's still not up and running. Problems include the quality of the welding which protects the core of the reactor.
Olkiluoto in Finland (the only other EPR reactor in Europe) is 13 years late and also £ billions over budget.
The only two working EPR reactors in the world are in Taishan in China and one of these has just been shut down by the Chinese authorities because of dangerous unexplained radioactive emissions.
And yes, Hinkley C, which is currently being constructed in Somerset, is also this type of reactor, and this too is already subject to delays and overspend.
France is highly dependent on an ageing fleet of nuclear reactors. Yet despite EDF's and the French government's original intention to replace these with EPR reactors from 2020, no plans are yet forthcoming. Hardly surprising given their experience at Flamanville and elsewhere.
Why on earth would we want this undeliverable reactor here in the UK at Sizewell and in Somerset?
13 YEARS LATE, 200% OVERSPEND
Olkiluoto 3, Finland:
Construction started in 2005.
Initial estimated completion date 2009.
Latest estimated completion date 2022.
Initial budget €3.7 billion.
Latest cost forecast €11billion.

11 YEARS LATE, 500% OVERSPEND
Flamanville 3 (twin reactors), France:
Construction started in 2007.
Initial estimated completion date 2012.
Latest estimated completion date 2023.
Initial budget €3.3 billion.
Latest cost forecast €19.1 billion.

SHUTDOWN - RADIOACTIVE EMISSIONS
Taishan 1 & 2, China:
Construction started in 2009/10.
Initial estimated completion date 2013/14.
Actual completion 2018/19.
Taishan 1 shut down since July 2021
due to unexplained radioactive emissions.

DELAYED & OVER BUDGET
Hinkley Point C, Somerset:
Main construction started in 2018.
Initial estimated completion date 2023;
Latest estimated completion date 2026.
Initial budget (2016) £18 billion;
Latest cost forecast £23 billion.
2. IT WON'T HELP TACKLE THE CLIMATE EMERGENCY
Sizewell C can't be built in time to meet the climate emergency we're currently facing and the UK government's own carbon targets.
The absolute earliest it would be operational is 2034 (and that is very unlikely) and its construction - which includes the production of over 5.1 million tonnes of concrete - would in the meantime cause at least 6.24 million tonnes of carbon emissions. The huge carbon footprint of its construction, even according to EDF's own figures, would not be repaid until at least 2040 - much too late!
And these figures don't include the carbon cost of ensuring nuclear waste is stored safely for thousands of years, of decommissioning, or of increasing the size of sea defences against rising sea levels over the next 100+ years (although EDF acknowledge that this will have to be done).
Nuclear energy cannot be described as either green or zero carbon because of its terrible legacy of radioactive waste and the huge environmental costs of the mining and enrichment of uranium, itself a depleting resource. And because of its massive carbon footprint.
Sizewell C's too much - and much too late.
3. IT'S INFLEXIBLE AND UNRELIABLE
New nuclear does not provide the reliable energy supply that EDF and lobbyists claim.
As well as scheduled outages (shutdowns) for several weeks every 18-24 months for fuel replacement, unplanned outages have recently plagued EDF's reactors, with Sizewell B shut down earlier this year and Hinkley B currently out of action. Moreover, Dungeness B, out of action since 2018 after a Level 2 incident due to corrosion, has this year been taken out of commission permanently, 7 years earlier than planned. Because each unit is so huge, unplanned shutdowns and construction delays put enormous pressure on other energy infrastructure, contributing to supply instability.
This inflexibility and unreliability means that new nuclear is not fit for to provide the UK's future energy needs. Low cost green energy production, smart & distributed grids and energy storage solutions mean that EDF's EPR reactors will probably be obsolete long before they are ever completed.
4. THERE'S NO SOLUTION TO KEEP ALL THE SPENT FUEL AND NUCLEAR FUEL SAFE
Over its lifetime it's estimated that Sizewell C will generate around 4000 tonnes of highly radioactive spent fuel, and many more tonnes of radioactive waste. There is no long-term solution to the safe storage of this spent fuel - or the waste - which remains dangerously radioactive for thousands of years.
It's proposed that it will be stored here on our rapidly eroding coast for at least 100 years. How will future generations keep it safe, especially with what we know about climate change and rising seas? And what will be the cost of doing so here on one of the fastest eroding coastlines in Europe?
Nuclear energy is inherently risky - so much so that it is impossible to get insurance for your home or business that covers you against any loss caused by a nuclear incident.
So if something goes wrong, we - and our children - stand to lose everything.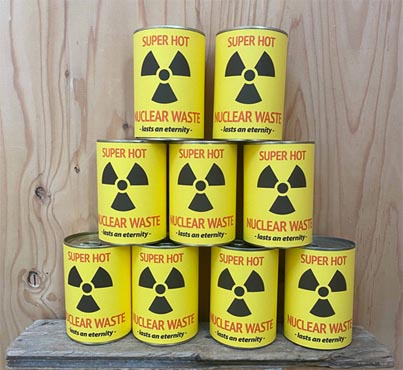 Click on Jayne Ivimey's Bird by Bird to continue your tour
Or go straight to individual artworks:
C Beyond introduction - NO NO NO (hopes for our children) - The Elephant in the Room - Jayne Ivimey's Bird by Bird
The Sizewell C White Elephant - Sizewell C needs YOU - Out of Order - Battered Seafood - Nuclear island?
Walking at the Edge - C Views - Sizewell Scud - #sizewellcnot4me
return to flyintheface homepage