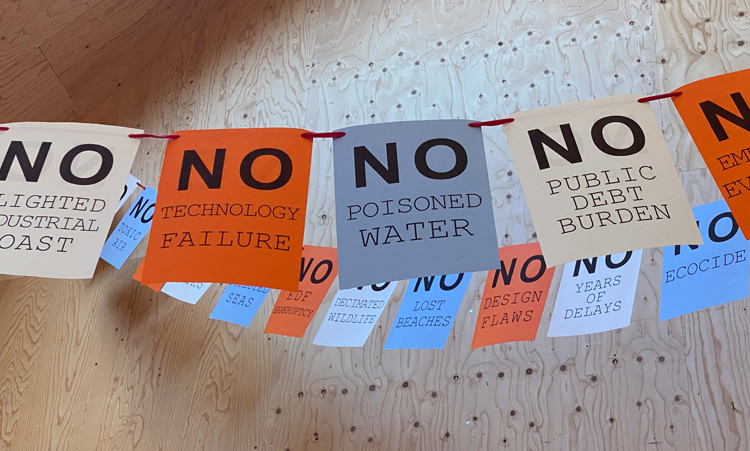 NO NO NO is an aerial installation of 48 different prayer flags, each expressing a fear for the future and for our children...
If built, Sizewell C would leave a terrible legacy to future generations - not least, the cripplingly expensive and perhaps insurmountable task of defending the site and a mountain of highly toxic waste against rising seas on Suffolk's precarious eroding coast for more than 100 years.
'No, No, No' expresses some of the risks that future generations would be exposed to, and what I hope our children - and many generations of their children - will not have to face. I hope instead we will choose to be good ancestors and not add to their difficulties dealing with climate change by burdening them with two astronomically expensive nuclear power stations, founded on failing technology and built in the wrong place.
Click on The Elephant in the Room to continue your tour
Or go straight to individual artworks:
C Beyond introduction - NO NO NO (hopes for our children) - The Elephant in the Room - Jayne Ivimey's Bird by Bird
The Sizewell C White Elephant - Sizewell C needs YOU - Out of Order - Battered Seafood - Nuclear island?
Walking at the Edge - C Views - Sizewell Scud - #sizewellcnot4me
return to flyintheface homepage