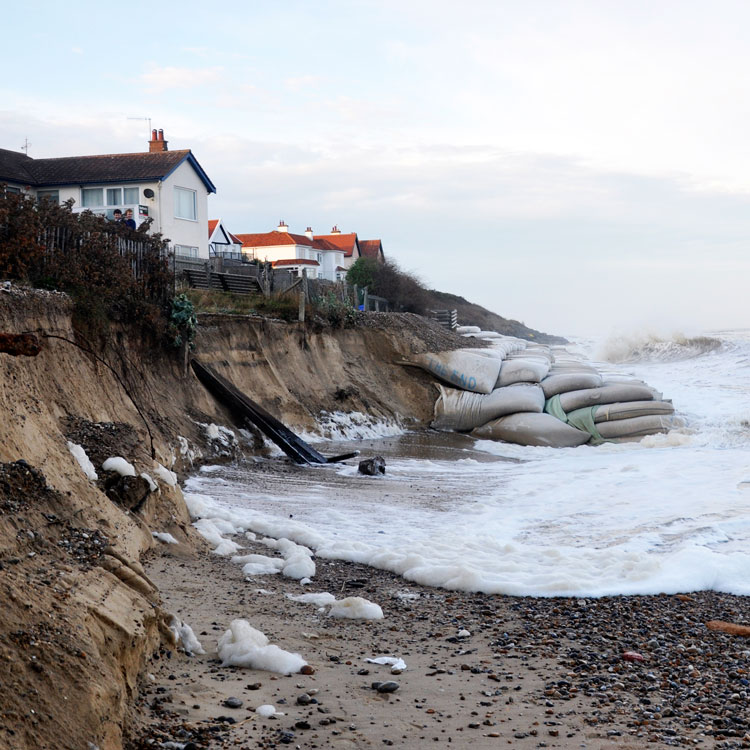 Thorpeness, 14th October 2013 - more than 3 meters of beach was taken away in a single day
Since 2006 I have been collecting plastics from Suffolk beaches to draw attention to the problems caused by marine plastics. Whilst walking, I have taken many hundreds of photographs of our changing coastline.
Erosion has been a feature of the East Anglian coastline for hundreds of years, with many villages lost to the sea. The photos here (shown in roughly chronological order) were taken at Thorpeness over the course of 12 years. They bear witness to the continuing onslaught of the sea on our coastline and the inevitability of further erosion, especially with the prospect of accelerating sea level rise and more extreme storm events as a result of climate change.
All of the photographs below were taken within 2 miles of Sizewell nuclear power station, posing the question: is this coastline, with its friable sandy cliffs and watery hinterland, a suitable place for two new nuclear power stations?
And what kind of a legacy will we be leaving to future generations?
Click here to see larger versions.

Thorpeness on 28th August, 2021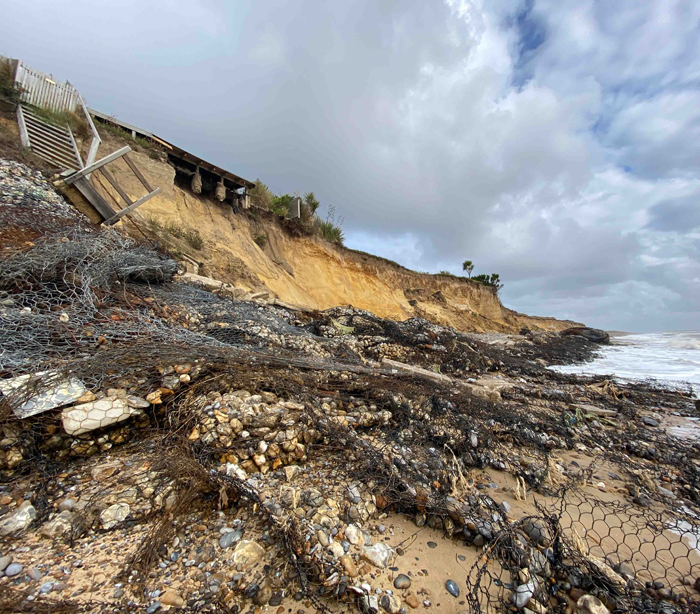 This photograph was taken at the north end of Thorpeness on 28th August, 2021. The cliffs here have been subject to severe erosion in 2021, causing the collape and destruction of the sea defences built 10 years ago, some 15 years earlier than anticipated. This has lead to the loss of many meters of cliff in just a few months, directly threatening the houses above.
This is not a new phenomenon.
The pillbox bulldozed off the cliff in 2007 immediately north of this spot now lies 25 metres seaward of the cliff edge, a reminder of just how friable and temporary this coast is.
But this is not just a phenomenon of Thorpeness… It is the same all along the East Anglian coast: Felixstowe, Bawdsey, Orford Ness (where we lost our lighthouse only last year), Dunwich, Easton Bavents, Covehythe, Lowestoft… have all suffered recent losses. And millions of pounds have been spent trying to hold back the sea - at least temporarily - in this region.
And this is not a recent development either. Attrition of our sandy coastline has proceeded unhalted for a millennium and beyond: the Moot Hall in Aldeburgh used to be in the heart of the town, lying west of a number of streets all now lost to the sea. And in the 11th century, Dunwich was one of the greatest ports on the east coast, the tenth largest place in England: a crusader port, a naval base, and a religious centre with many large churches, monasteries, hospitals, grand public buildings and even a mint. All now lying under the sea.
And all has happened within just a few kilometres of Sizewell.
People always think the apparently unlikely will never happen - yet so often it does.
Click on C Views to continue your tour

Or go straight to individual artworks:
C Beyond introduction - NO NO NO (hopes for our children) - The Elephant in the Room - Jayne Ivimey's Bird by Bird
The Sizewell C White Elephant - Sizewell C needs YOU - Out of Order - Battered Seafood - Nuclear island?
Walking at the Edge - C Views - Sizewell Scud - #sizewellcnot4me
return to flyintheface homepage